For Immediate Release 



Date: July 22, 2015

Durban, South Africa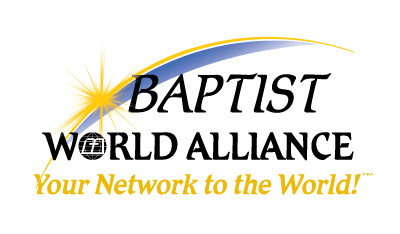 Outgoing President John Upton, declared the 21st congress of the Baptist World Alliance open at the opening celebration held in the International Convention Centre (ICC) in Durban, South Africa on Wednesday evening, July 22, 2015 at 7:00 pm. In a worship service that featured the telling of the South Africans' liberation story against the backdrop of African rhythmic singing, chanting and drumming, instrumental music provided by the South Korean children's choir and orchestra and congregational praise through singing and praying, Baptists from all over the world celebrated their unity amidst diversity under the theme: Jesus Christ, the Door.
The atmosphere was electrified with celebrative joy as the participants from over eighty countries responded with tumultuous shouts when the roll call was taken. The inclemency of the Durban winter weather did not prevent thousands from attending the opening celebration nor dampen the warmth of the fellowship experienced.
"Jesus is the light that shines in the darkness," declared Peter  Chin, guest preacher from the Republic of South Korea, who spoke on the sub-theme, "Jesus Christ, the Door to Light," from St. John 8:12. Chin reminded the congregation that comprised not only Baptists but, undoubtedly, people from other communions and representatives from the political and civic communities, that Jesus as light brought life, direction and forgiveness in a broken world marred by hatred, human suffering, poverty and spiritual darkness. The opening celebration ended with prayer by Neville Callam, General Secretary of the Baptist World Alliance.
 The Baptists are in Durban, South Africa for their 21st Congress under the theme: Jesus Christ: The Door.  The Approximately 2,500 participants from more than 80 countries will over the next four (4) days share in bible studies, focus groups presentations, worship and fellowship enrichment.
Santana Morris
Caribbean Congress Reporter